2016 is the 30th Anniversary Year of The Business Advisory Bureau Limited, the longest established UK consultancy specialising in helping large organisations research, understand, engage and promote their products and services to independent business owners.
2016 is also the 20th Anniversary Year of the government recognised sector skills body for enterprise and business support which we founded and co-own – the SFEDI Group (including the Institute of Enterprise and Entrepreneurs).
I am a professional business speaker, author, facilitator and co-founder (with Tina Boden) of the Enterprise Rockers CIC (#PayInThirtyDays #NotAnSME #MicroBizMattersDay #Indie25ER). My role is to spread the word and professionally assist leaders to understand how to engage with and support prospective and existing micro enterprise owners (95% of all businesses).
It makes sense to be involved in the micro enterprise revolution and no sense to be a bystander.
If you are interested in engaging with and/or developing products and services (including support & training) for micro enterprise then this website tells you all you need to know about our company's (The Business Advisory Bureau Limited. Established 1986) offer to you.


The man to whom Sir Alex Ferguson said 'I wish I had the courage to wear a hat like that' (09/2015)  is also a writer and you can read his thriller fiction, satires and poetry
FREE HERE
Freedom From Bosses Forever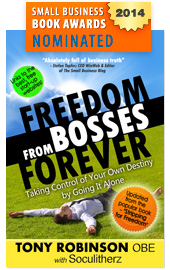 Recent articles from Daily Telegraph, Guardian and global leading business magazines on Tony's 'Micro Enterprise Revolution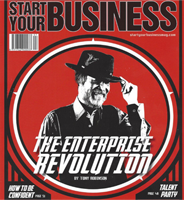 Tony Robinson OBE is an award winning author and speaker. He received an OBE, from Prince Charles, for Small Firms and Training in 2001. He has received 2 Lifetime Achievement Awards for Enterprise – from the International Association of Book Keepers in 2012 and Start Your Business Magazine in 2013.
Tony's 'The Enterprise Way' conference speeches and Enterprise Rockers' corporate shows explain how to engage and support micro enterprise owners. The speeches are based on extensive research and experience and are entertainingly delivered, without notes. Tony interacts with the audience, mostly off stage, whilst the audience watches a revolving slide show.
Tony's practical, humorous, best selling book 'Freedom from Bosses Forever' has received hundreds of excellent reviews and is rated 5 stars by readers on Amazon. It has been Start Your Business Magazine's Book of the Month and nominated in 2014 for Small Business Book of the Year.

Tony is also an Ambassador for a number of organisations and events including Europe's biggest annual business event at Olympia The Business Show. Tina is an Ambassador for many organisations and events too including the annual Small Business Saturday. Tina and Tony are both Sage Business Experts.
These 'How to be successful in your own business' videos are based on Tony Robinson OBE and other Enterprise Rockers' Top Tweets. These top tips tweets contain the essential habits of successful entrepreneurs, business owners and self employed people everywhere. 140 characters isn't much to explain why they are so important so Tony Robinson OBE, the Micro Enterprise Revolutionary, has created these videos to explain 'how to' use these tips in your business. Start ups will find them valuable and hopefully everyone will find something to smile about from them too.